How to earn points with American Express credit cards
If you're looking for the best American Express credit card for earning rewards points then you could be on a comparison site for some time because there's a lot to choose from!
Amex produces a wide range of credit cards to suit most lifestyles, including low–rate cards for people who are maybe new to using credit.
What Amex really excels at, though, is cards with rewards and frequent flyer points. If it's the points you're after, then you need to look at the top–performing cards for just that purpose.
What is the Amex earn rate for QFF points?
On average, the earn rate for Qantas Frequent Flyer points is 1.25 points per dollar spent, but the Qantas American Express Ultimate card offers a rate of up to 2.25 QFF points per dollar spent on eligible purchases.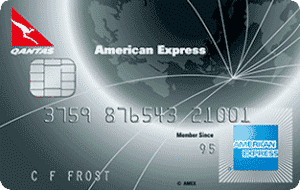 There's also the American Express Velocity Platinum card which earns you 1.25 Velocity points (Virgin Australia) for each dollar spent. If you spend $3,000 within the first three months then you'll also get 50,000 bonus VP. There's a $375 annual fee, but you'll get 100 Stats Credits and lots of travel perks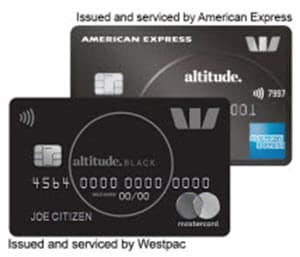 The American Express Westpac Altitude Platinum Bundle for Qantas card gives you 75,000 bonus QFF points if you meet the spend criteria. You'll earn one point per dollar spent on eligible purchases and there's a $249 annual fee.
The American Express Westpac Altitude Black Bundle for Qantas offers holders up to 120,000 bonus QFF points with Mastercard and Amex. The annual fee for this card is $449 and the QFF earn rate is 1.25 points for eligible domestic purchases and two points per dollar for international purchases.
Which Amex card is great for frequent flyers?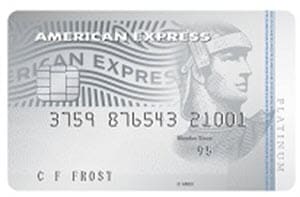 The American Express Platinum Edge credit card offers travellers up to three Membership Reward points for eligible purchases and the annual fee of $195. Cardholders also receive an annual $200 travel credit as well as free domestic and international travel insurance. This card is not linked to QFF but points can be used at 9 partner airlines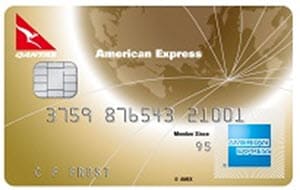 The Qantas American Express Premium card offers users a 30,000 QFF point bonus for signing up and reaching a spend target, with a regular earn rate of one point per dollar spent on eligible purchases. This card also offers users two complimentary Qantas Club lounge invitations annually and free insurance.
Which Amex card has most frequent flyer points?
The American Express Westpac Altitude Platinum bundle offers cardholders up to 75,000 in bonus Altitude points for signing up and spending $3,000 on both the Amex and Mastercard within 90 days. You must sign up before October 15 2019 to be eligible for the bonus offer. The earn rate on this card is up to three points per dollar on eligible purchases and you'll also receive free travel insurance.
The different types of American Express cards – an overview
Amex produces charge cards and credit cards that are suitable for both business and personal use and while it's known for its popular platinum cards and very attractive rewards schemes, it also has cards to suit people looking for low rates and low fees.
The rewards credit cards
The American Express rewards cards feed into the Amex Membership Rewards programmes and you can use the cards to accrue Membership Rewards points for each dollar you spend on eligible purchases. Many of the rewards cards offer big bonus point offers for new sign–ups ( if you meet the spending requirements – usually $3,000 within three months) then you can get anything up to 150,000 points.
Amex Membership Rewards can be redeemed online at David Jones, Ticketmaster or American Express Travel. You can also pay with points for shopping at Coles, Bunnings, Myer and Country Road, including gift cards.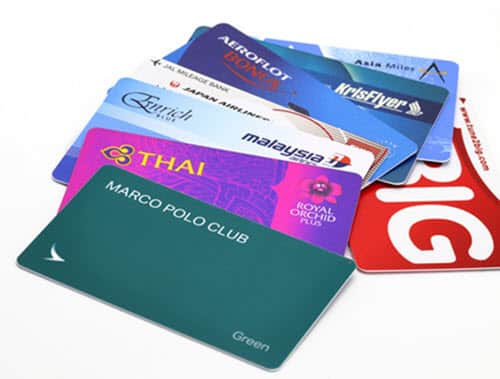 When it comes to exchanging Membership Points for alternative points or for airmiles with partnering airline loyalty schemes, like Emirates, Skywards, Etihad Guest, KrisFlyer (Singapore Airlines) and Virgin Australia Velocity, the rates are quite generous, especially with KrisFlyer, which offers free stopovers for long–haul flights.
The special perks
Although you might think that some of the annual fees and interest rates for these types of card are high, they do have a big trade–off against the number of nice little perks and treats that you're entitled to. These include free travel insurance, as well as regular invitations to the lounges at Sydney and Melbourne airports. There's also the special invitations to Amex's exclusive events several times a year.
The frequent flyer credit cards
Amex's frequent flyer cards are linked to Qantas and Velocity Frequent Flyer programmes and it's easy to earn big bonus point amounts as well as to build up points via purchases. Some types of purchase offer double or triple the regular points–per–dollar rate and your points total can also be used for holiday packages and experiences.
The Membership Rewards cards
Even if you're not a regular traveller or flyer, the Membership Rewards scheme lets you earn one point per dollar and you can still earn bonuses. Once you get enough points, you can redeem them for lots of rewards, cashback onto the card or gift cards, as well as exchange the points for frequent flyer points.
The information contained on this web site is general in nature and does not take into account your personal situation. You should consider whether the information is appropriate to your needs, and where appropriate, seek professional advice from a financial adviser. If you or someone you know is in financial stress, contact the National Debt Helpline on 1800 007 007.