RBA Rate Updates
Too low for zero: will interest rates hit 0%? (8 October 2019)
Reserve Bank of Australia (RBA) governor Phillip Lowe is reluctant to cut interest rates further following last Tuesday's record rate cut.
Yet, with the government unlikely to increase spending, Lowe is in a tricky predicament, with the government placing a budget surplus ahead of jobs and growth.
Despite its reluctance, the RBA has no choice but to stimulate the economy and that could mean zero per cent (or even negative) interest rates on the horizon.
"[We are] prepared to ease monetary policy further if needed to support sustainable growth in the economy, full employment and the achievement of the inflation target over time," Lowe said.
The top priority of the RBA is achieving a full employment level of 4.5 per cent. It wants businesses to hire staff; to reduce the number of unemployed (currently two million) who are seeking work.
Unemployment currently sits at 5.3 per cent – a 12 month high.
Lowe flagged a 0 per cent interest rate back in August when he told the government, "It's possible we end up at the zero lower bound although I think it's unlikely."
Interest rates have dropped from 1.5 per cent in June 2019 to currently sit at 0.75 per cent. A further cut is expected at either the November meeting or on the first Tuesday in February 2020.
Which banks passed the rate cut on?

Cutting interest rates isn't necessarily a panacea for the economy. As we have seen this past week, the big four banks are unlikely to pass on rate cuts in full. They certainly won't be dropping their rates to zero or pay you for having your money with them.
Remember, banks are profit-making machines and have shareholders to satisfy. They want your money, but not at any cost.
The Commonwealth Bank cut its official rate by 0.13 per cent, while NAB and Westpac sliced off 0.15 per cent.
ANZ is lowering rates by between 0.14 percentage points for owner-occupiers paying principal and interest, and 0.25 percentage points for property investors with interest-only loans.
Meanwhile, smaller banks such as U Bank and Athena have passed the cuts on in full. Here's a comparison of current rates.
However, don't expect any of these banks to go to zero. It's too low.
What else can the RBA do?
The RBA could pull a Quantitative Easing policy out of its bag of tricks.
What is QE / Quantitative Easing?
Quantitative Easing (QE) is an unconventional monetary policy. It's the act of printing money to buy government bonds (debts), which are considered the safest form of investment because governments rarely go bankrupt.
The Australian government currently owes approximately $550 billion to investors who have bought Australian bonds.
QE has been used in the US and parts of Europe in recent years, most notably by Greece, during the global financial crisis (GFC).
It has a short-term impact, but little effect as interest rates head into negative territory. It could also over inflate the price of assets including housing.
The RBA has another option available as well – term funding.
What is term funding?
If the Reserve Bank adopted a term funding policy it would provide funding to banks at close to the official cash rate. This has proven successful in the UK, where they have passed on significant borrowing cost reductions to the real economy.
Both these alternatives are unlikely. Dr Lowe said these measures would only be considered, "If growth is very weak — it stays in the 1 per cent range for a longer period of time — the unemployment rate starts rising, wages growth doesn't pick up and inflation's falling short."
In short, unconventional monetary policy is unlikely to be implemented.
So there is one more rate cut left int eh RBA's bag of tricks. After that, it is difficult to determine what will happen.
What we do know is rates will be at their lowest in history (as they are now) and are likely to stay low for some time to come.

The information contained on this web site is general in nature and does not take into account your personal situation. You should consider whether the information is appropriate to your needs, and where appropriate, seek professional advice from a financial adviser. If you or someone you know is in financial stress, contact the National Debt Helpline on 1800 007 007.
RBA slashes interest rates to new record low (1 October 2019)
Jonathan Jackson
InfoChoice investment expert writer
As expected, the Reserve Bank of Australia (RBA) has cut interest rates from 1 per cent to a record low of 0.75 per cent in October 2019.
RBA meeting minutes suggested the decision to slash the rate further was due to weak domestic growth, increasing downside risks to global growth, stalled wages growth and a rising unemployment rate.
The cut is designed to stimulate Australia's flagging economy, however there are doubts this move will have any impact. Certainly, there will be no impact at all if the banks don't pass this cut on to consumers.
Whilst, the Federal Government is urging banks to reduce their rates, there is no guarantee they will, with many economists and financial commentators suggesting many consumers are unlikely to realise the full 0.75 per cent cut.
The big four banks passed on approximately 80 per cent of the previous cut but are expected to hold back more this time.
Which banks are passing on the RBA rate cut?
Nine Network Finance Editor Ross Greenwood postulated that "Banks are not likely to pass it on because their margins are being squeezed. Their margins are being squeezed as interest rates get closer to zero."
His sage advice to consumers: find another bank if you are unhappy with your rate, or negotiate your current rate down.
InfoChoice CEO Vadim Taube is taking a realistic approach, but agrees margins are being squeezed.
"Some lenders will pass on all of this rate cut and some lenders will retain some or all of it.
"All the banks and other lenders are feeling the pressure of competition and low rates are squeezing their margins right now.
"The next few weeks are going to be great for comparing rates and finding a cheaper loan deal," said Vadim Taube.
Sydney based online non-bank lender Athena has already passed on the full 0.25 per cent rate cut to owner occupiers and investors.
Athena's new variable Owner Occupier P&I rate is 2.84 per cent pa (comparison rate 2.80 per cent pa). For investors, Athena's new rate is 3.24 per cent pa (comparison rate 3.20 per cent pa).
Co-founder and CEO of Athena, Nathan Walsh said: "Saving customers money is at the core of Athena's mission.
"By passing on all three of the RBA rate cuts immediately, we have been able to save our customers over $23 million over the life of their loans."
"Customers are realising they don't need to put up with a home loan provider that doesn't pass on the savings when they can," said Nathan Walsh.
Does Australia need more rate cuts?
Future Fund chairman and former Federal Treasurer, Peter Costello believes the economic impact of a rate cut on Australia's economy will be minimal.
Mr Costello told a Yahoo Finance conference that he feels the current rate drop suggests an economic abnormality, particularly at a time when fundamentals don't seem so bad: unemployment is 5.3 per cent, inflation is 1.6 per cent, the budget is "more-or-less balanced", Australia has a trade surplus and a current account surplus.
During his time as Treasurer in the Howard government, these were reasonable statistics.
"If you would have said to me to think of an economy where the cash rate is 1 per cent and the long-term bond rate is 1 per cent, what sort of economy is that?" he said.
"I would say it's an economy that's never existed — we've never had 10-year money you can get for 1 per cent or less.
"If I had been forced to make a guess, I probably would have said to you that's got to be a deep recessionary economy.
"Why else would you have interest rates at 1 per cent?"
Mr Costello says structural reform, not monetary policy is what is needed to breathe life into Australia's economy.
How low can interest rates go?
Further rate cuts are expected.
AMP Capital's chief economist Shane Oliver said, "We had thought that the low would be 0.5% but given the continuing weak outlook we now see the RBA ultimately cutting the cash rate to a low of 0.25 per cent with another cut around February next year.
"This will likely be the absolute bottom though as banks are unlikely to be able to pass on rate cuts beyond that point and negative rates are likely to be counterproductive."
CommSec has also tweeted that it expects a further drop: More easing to come? The #RBA has cut interest rates today by 0.25% with expectations of another rate cut in early 2020 #ausbiz #ausecon
The graph below provides an interesting snapshot of how interest rates have declined since 2008 in comparison to the United States Federal Reserve policy:
What to expect?
A further rate cut is predicted, with another before February 2020.
It can't go much lower than that, so it's time for home-owners and borrowers to find the best deal for them. A home loan comparison calculator will help.
House prices are once again expected to rise, so now is the right time to compare rates.
Keep up to date with all the latest rate changes from lenders at InfoChoice Trending News.
The information contained on this web site is general in nature and does not take into account your personal situation. You should consider whether the information is appropriate to your needs, and where appropriate, seek professional advice from a financial adviser. If you or someone you know is in financial stress, contact the National Debt Helpline on 1800 007 007.
Donald Trump's rate cuts coming to Aussie households in October (25 Sept. 2019)
Jason Bryce
InfoChoice Journalist & Content Manager
Donald Trump has been demanding rate cuts for months and he got one last week. And that US rate cut looks certain to flow through to Australian homebuyers, as soon as next Tuesday the 1st of October.
The monetary policy makers at the Reserve Bank of Australia have confirmed that they are monitoring rates in the USA and elsewhere and are likely to follow with Australian rate cuts that will flow through to homebuyers.
The President of the USA, Donald Trump unleashed a Twitter tirade starting in April and lasting months against the "boneheads" running the US Federal Reserve (America's central bank) for not cutting interest rates sooner and further.
Mr Trump has consistently criticised the Federal Reserve chairman Jerome Powell as "clueless" for keeping US interest rates slightly higher than global trading partners.
"The Federal Reserve should get our interest rates down to ZERO, or less," the president tweeted last week.
Jerome Powell's federal reserve, like Australia's RBA, is supposed to be independent of government interference and not subject to instructions from political leaders. The Federal reserve is required by government mandate to set monetary policy that will "foster maximum employment and price stability."
Nevertheless, the President has been piling on the pressure for lower rates.
"The USA should always be paying the the [sic] lowest rate," the President tweeted.
"No Inflation! It is only the naïveté of Jay Powell and the Federal Reserve that doesn't allow us to do what other countries are already doing," Mr Trump continued in a long evening Twitter thread.
"A once in a lifetime opportunity that we are missing because of "Boneheads."
Last week the US Federal Reserve delivered a 0.25 per cent rate cut to the Pesident and the US economy. The Federal Reserve target interest rate is now 1.75 – 2.0 per cent, still higher than in many other countries.
Last night in Armidale NSW, The Reserve Bank of Australia's governor Dr Philip Lowe noted the US rate cut and raised expectations of an Aussie rate cut for next week.
"Almost all major central banks are expected to ease monetary policy over the year ahead,' said Dr Lowe.
"The United States Federal Reserve and the European Central Bank having already moved in this direction."
"Given that inflation is low – and forecast to remain low – investors are also expecting central banks to maintain very accommodative settings of monetary policy for years to come.
The Reserve Bank board "is prepared to ease monetary policy further if needed to support sustainable growth in the economy," said Dr Lowe.
The official unemployment rate in Australia rose in August to 5.3 per cent, from 5.2 per cent in July according to data released last week from the Australian Bureau of Statistics. In the 12 months to June 2019, Australia's GDP grew by 1.4 per cent, much slower than expected.
"We did not expect this slowdown, so it has come as a bit of a surprise," said Dr Lowe
Slowly but surely, property prices head north (17 Sept. 2019)
Jonathan Jackson
InfoChoice investment expert writer
It has been the longest property downturn in decades, but sentiment in the property market looks to be improving.
That is certainly true of the Melbourne and Sydney markets. In July, house values in Sydney rose 0.2 per cent, whilst Melbourne grew by 0.1 per cent. Values of apartments in the two cities increased by 0.3 per cent and 0.4 per cent respectively.
The Council of Financial Regulators noted the turnaround when they last met for their quarterly pow-wow.
The Council discussed signs of stabilisation in the Sydney and Melbourne housing markets, evident in both housing prices and auction clearance rates.
However, they did note conditions in most other capital cities continue to be soft.
According to Domain, that trend will reverse.
The following table suggests modest growth in all capital cities in house price forecasts:
Factors driving the turnaround are the current strength of the labour market, low interest rates and the improvement in lending standards (as well as a slight softening of borrowing criteria).
This is no dead cat bounce
There are rumblings the current change in sentiment to one of cautious optimism is just temporary. There's further prolonged pain on the horizon.
That false optimism is known as a dead cat bounce: a small, short-lived recovery in the price of a security or asset, before a continued downtrend kicks in.
There will always be doomsayers predicting the end of days for the property market, but really all signs point to the contrary.
The recovery looks legitimate.
A stable government and significant drops in interest rates are further influential reasons for slowly bringing people back to the market.
According to the latest data from the Australian Bureau of Statistics (ABS), the value of new loans issued to households jumped 3.9 per cent to $32 billion in July. This was its sharpest increase in four-and-a-half years.
The ABS states the amount of money borrowed rose 5.3 per cent to $13.3 billion, from the previous month. Seasonally adjusted that is the strongest result since August 2015.
Other noteworthy statistics include the 4.2 per cent increase (32,427 in July) in the number of people taking out a mortgage to buy their next home. Market expectations were set at a 1.5 per cent increase – that's a significant 2.7 per cent increase on what was expected.
Even first home buyers are re-entering the property market. ABS statistics show the number of loans to owner occupier first home buyers rose for the fourth consecutive month in July (up 1.3 per cent).
ABS Chief Economist, Bruce Hockman said: "In July, growth in new lending commitments to households was the strongest since October 2014.
"For the second month in a row there were particularly strong increases in the level of new lending commitments for owner occupier and investment dwellings. Despite this recent turn-around both series remain down from their respective peaks in 2017."
Sentiment is once again north facing and it as if slowly, but surely the downturn is fading. It's a good time to start comparing interest rates and benefits, whilst working out your borrowing power.
And let's spare a thought for those who lost a little bit of value over the past few years. It's not all bad. When you put this last downturn in perspective, house values are close to 50 per cent higher than at the start of the decade. That's a solid return.
Compare the top home loan products from Australia's banks, credit unions, building societies and non-bank lenders here.
The information contained on this web site is general in nature and does not take into account your personal situation. You should consider whether the information is appropriate to your needs, and where appropriate, seek professional advice from a financial adviser. If you or someone you know is in financial stress, contact the National Debt Helpline on 1800 007 007.
Consumer confidence down but house prices up (11 September 2019)
By Jonathan Jackson
InfoChoice investment expert writer
House price and auction clearance rate data from July indicate a housing market revival is happening. However some economists are warning this could be a temporary recovery before the next substantial fall.
Usually, a recovery in the housing market indicates a rise in consumer confidence. However, today's data from the Westpac-Melbourne Institute Index of Consumer Sentiment runs contrary to that theory.
source:
tradingeconomics.com
Consumer confidence is down 1.7 per cent to 98.2 in September 2019, swinging from a 3.6 per cent rise in August. The decline is due to pressure on family finances and concerns about the near-term outlook for the global economy.
What is interesting is that the stimulants used by the Reserve Bank of Australia (RBA) and the Federal Government to invite spending, seem to be having little or no impact.
With regard to the tax offset payments introduced by the government on 1 July, just over 16 per cent of consumers reported receiving a refund with just 29 per cent of those people planning to spend all of that money.
15 per cent of surveyed consumers planned to spend half the refund and a substantial 53 per cent, will put the extra cash towards savings.
The government was hoping that consumers would go forth and spend the extra cash but 61 per cent of Aussies surveyed by Westpac said the wisest place to put their savings was in deposits, superannuation or paying down debt.
"Many Aussies are confused about what to do with their money in the current environment," CommSec chief economist Craig James said.
Employment is also a concern.
"These concerns about the state of the economy; the international backdrop; and employment are seeing consumers become more cautious about their finances," the Westpac report states.
The unemployment rate is steady at 5.2 per cent, unchanged since July, and still higher than the RBA would like but employment is up.
But despite all these headwinds, confidence is returning to the housing market.
"Consumers' house price expectations have continued to firm," says the Westpac-Melbourne Institute Index of House Price Expectations Index.
The index posted a further 3.9 per cent rise in September to be up a spectacular 45.8 per cent since May. All major states recorded a lift in price expectations this month. Expectations posted a particularly strong 6.7 per cent gain in NSW."
For homeowners and investors, that's great news, especially when you consider that further stimulatory measures may be taken by the RBA when it meets on 1 October.
Westpac chief economist Bill Evans expects the Reserve Bank of Australia to cut rates next month by another quarter-point to 0.75 per cent.
There are pros and cons to that, but with interest rates so low, now may be the best time in a while to consider a home purchase, so start comparing home loans.
Is it too soon in the recovery to say Hallelujah to that?
Low rates locked in to support ailing Aussie economy (4 September 2019)
The Australian economy grew by 0.5 per cent in the June quarter and 1.4 per cent in the 2018/19 financial year, the lowest level of growth since the global financial crisis in 2008/2009.
source:
tradingeconomics.com
The final outcome for GDP in 2018/19 was substantially under expectations. The federal government had predicted growth of 2.25 per cent for the year and based the federal budget around this number. The Reserve Bank of Australia expected growth of 1.8 per cent.
Investment in housing fell 4.4 per cent during the last three months with household expenditure 'subdued' according to the ABS.
Economic growth in Australia is being driven by mineral exports while the domestic economy is being supported by government spending, particularly investment in disability, aged and health care.
"Strength in mining related activity was seen across a number of measures," said Bruce Hockman, chief economist for the Australian Bureau of Statistics.
"Growth in the domestic economy remains steady."
Meanwhile other ABS data released this week showed that retail sales shrank in July.
The Reserve Bank of Australia board has left official rates unchanged at 1.00 per cent in September. The RBA board said "an extended period of low interest rates will be required" to reduce unemployment.
The RBA will "ease monetary policy further if needed to support sustainable growth in the economy."
ASX 30-day Interbank Cash rate futures market trading indicates a 60 per cent chance of a rate cut by the RBA in October. The market currently expects the central bank to slice the official interest in Australia by 0.25 percentage points to 0.75 per cent at the next RBA board meeting on Tuesday 1 October.

RBA board minutes from the September meeting indicate low rates are here to stay for some time yet.
"It is reasonable to expect that an extended period of low interest rates will be required in Australia to make progress in reducing unemployment," read the September board minutes.
"The Board will continue to monitor developments, including in the labour market, and ease monetary policy further if needed to support sustainable growth."
Are interest rates going up or down? (22 August 2019)
While many economists are telling Aussies to expect more rate cuts, they may not arrive immediately.
Futures markets have priced in an 89 per cent expectation that the Reserve Bank will leave interest rates unchanged in September, up from around 50 per cent early last week.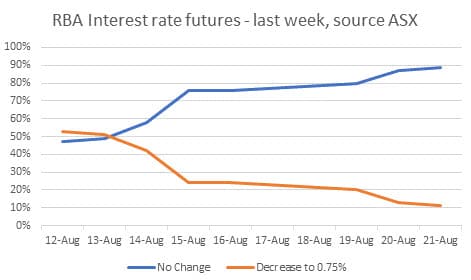 The governor of the RBA, Dr Philip Lowe has signalled he is worried about a developing trade dispute between China and the USA. He described bullish trade war talk as "very worrying."
"I do not have a clear idea of what strategy the US has," said Dr Lowe.
And Chinese manufacturing is suffering, which could flow through to Australian mineral exports and jobs.
"No country has made itself wealthy and prosperous through protectionism," said Philip Lowe. The US President Donald Trump jacked up the trade war rhetoric yesterday describing himself as "the chosen one" to take on China.
Read more about Donald Trump's trade war and the impact it could have on your home loan at InfoChoice.
RBA says low rates are here to stay (6th August 2019)
The Reserve Bank board has left the official cash interest rate unchanged for August at 1.0 per cent.
A statement from the board noted increasing uncertainty in the global economy caused by trade and technology disputes as well as lower than expected economic growth in Australia in the first half of 2019.
The budgets of Aussie households are "weighed down" by low income growth and declining housing prices said the board.
Unemployment is up slightly to 5.2 per cent and inflation edged higher to 1.6 per cent.
Australians should expect a long period of low interest rates. The RBA board said:
"It is reasonable to expect that an extended period of low interest rates will be required in Australia to … reduce unemployment and [make] progress towards the inflation target."
The Australian National University's 'RBA Shadow Board' of nine respected economists has predicted a 33 per cent probability of more rate cuts and 38 per cent probability of rate increases over the remainder of 2019.
Australia's Current Interest Rate is 1.00%
The board of Australia's government-owned central bank, the Reserve Bank of Australia (RBA) sets the Australian official cash interest rate (OCR) on the first Tuesday of each month, except January.
InfoChoice tracks the RBA's rate changes, reports changes within minutes of the RBA making an announcement and gives you the information you need to find the best mortgage and savings rates in Australia for your own circumstances.
The RBA cut interest rates on 2 July by 0.25 percentage points to 1.00 per cent. This follows a 0.25 percentage point cut in June.
Rising unemployment was cited in a statement from the RBA issued today as a key reason for this rate cut.
"There has … been little inroad into the spare capacity in the labour market recently, with the unemployment rate having risen slightly to 5.2 per cent," said the RBA statement.
Over the last 12 months (to 31 March 2019), the RBA said the "Australian economy grew at … below-trend 1.8 per cent."
"Consumption growth has been subdued, weighed down by a protracted period of low income growth and declining housing prices."
What is the RBA's official cash interest rate?
The OCR effectively sets the wholesale price of lending in Australia. When the RBA changes this rate, the banks and other lenders follow by changing their retail variable lending and savings interest rates. If the RBA puts the OCR up, your variable home loan and savings accounts rates will probably also rise. A cut in the OCR means your loan and account rates may also be cut.
The lowest variable rate home loans available in Australia are priced about two per cent above the RBA's OCR. The lowest variable rate mortgages on offer from the big four banks start from about three per cent above the OCR.
The highest savings account rates in Australia are about one per cent over the OCR.
Fixed rate home loan rates and term deposit rates are not based on the RBA's OCR and do not follow movements in the official cash rate.
The RBA operates independently of government and is charged with maintaining low unemployment and low inflation. When inflation falls or unemployment rises, the RBA may consider cutting rates. When unemployment falls, or inflation rises sharply, the RBA may consider raising rates.
Last Meeting: Tuesday 1 October 2019
Next RBA Meeting: Tuesday 5 November 2019